Wet Paint
is the sixteenth episode of Series 1 of Bananas in Pyjamas aired on 10th August 1992.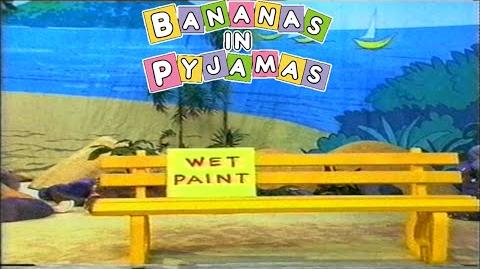 Plot
The bananas are painting a bench on the beach. The bench had initially been pink, but the bananas prefer yellow. Once they have finished, they decide that it's rest time and nearly sit on the bench. Realising just in time that they would get paint all over their pyjamas if they had done that, the decide to go off while waiting for the paint to dry. They put up a wet paint sign.
Meanwhile, Lulu leads the teddies out for a jog, which Amy and Morgan are not too happy about. Being fitter than the other 2. Lulu is soon far ahead. When they run past the bench, Amy is tired and nearly sits on the bench. Fortunately, she notices the sign just in time, preventing her gym clothes from being stained. However, she cannot resist touching the bench to see if the paint really is wet, leaving a pawprint behind. She hides the print behind the sign.
Morgan arrives next and repeats what Amy did. However, when he tried to hide his print, he reveals Amy's print just as the bananas return. The bananas find out about both prints, which Amy admits to making one of. They insist the 2 teddies help to repaint the bench, which they are happy to do as they won't have to jog. They go off to get more paintbrushes. Meanwhile, the bananas complain about how people do not think before doing silly things, just as they sit down on the wet bench. They quickly realize their mistake and stand up, only to find that their pyjamas are stained with paint. They realize that they now have to wash their pyjamas.
Trivia
If one looks carefully, one can see that the strips of "wet paint" are already stuck on the back of B1 when they are walking towards the bench, just before they sit down.
Community content is available under
CC-BY-SA
unless otherwise noted.