Singing Time
is a Bananas in Pyjamas TV special aired in 1996.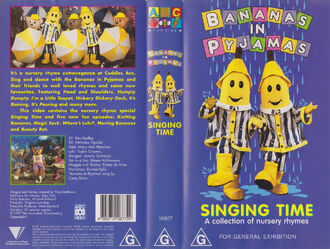 Plot
Everybody sings various children's songs and nursery rhymes the whole day through.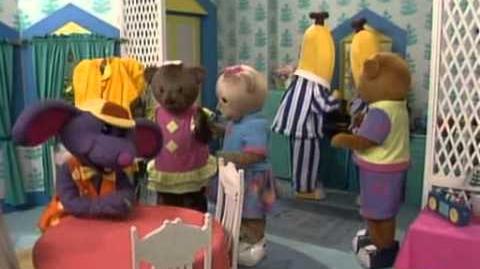 Songs/Poems
Here We Go Round the Mulberry Bush
Head, Shoulders, Knees, and Toes
Humpty Dumpty
Polly Put the Kettle On
I'm a Little Teapot
Pat-a-Cake
The Muffin Man
Row, Row, Row Your Boat
See Saw Mergery Daw
Old MacDonald Had a Farm
I Had a Little Nut Tree
Rain, Rain, Go Away
Drip, Drop, Rain is Falling Down
Hickory, Dickory, Dock
Stir Up the Pudding
Jelly on a Plate
Sing A Song of Sixpence
Miss Polly Had a Dolly
Yankee Doodle
Jack and Jill
Old King Cole by Rat, Amy, Lulu and M
Star Light, Star Brighto
Twinkle, Twinkle, Little Star
Hush Little Baby
Rock a Bye Baby
Trivia
The instrumental lullaby version of "Bananas in Pajamas Theme Song" plays during the end credits.
This is The Last Episode To Use Roman Numerals.
In the morning scene of this video, The Teddies Sang Shake Your Sillies Out, which was originally performed by Raffi
Gallery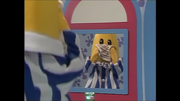 Community content is available under
CC-BY-SA
unless otherwise noted.