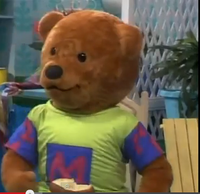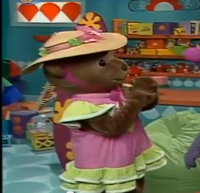 Morgan, Lulu, and Amy are teddy bear siblings who are B1 and B2's next-door neighbors. They have their own occassions and activities, especially they can spend lots of time with the bananas. According to the theme song and many others, the bananas chase and catch them.
Appearances
The original series
They made costumed appearances from Pink Mug (the first live-action episode) up to 2-Wheeler Bananas.
Morgan appeared as an orange bear with a green and blue shirt with an M in the middle and M's on his sleeves.
Lulu appeared as a dark brown bear with a pink dress with green diamonds and a green skirt.
Amy appeared as a beige bear with a blue shirt with a pink flower and pink detail and and colored spotted skirt and she is Morgan and Lulu's younger sister.
The animated series
All the teddies appear with eyebrows in the animated series.
Morgan appears as a light brown bear with a cool hairstyle and wearing a red shirt with a collar and black buttons, black shorts, and red sneakers.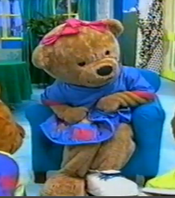 Lulu appears a brown bear with eyelashes and wearing a white bow on her head, a pink dress, and pink shoes.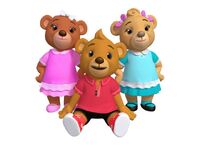 Amy appears as a beige bear with eyelashes, a curly hairstyle and wearing two pink bows on her head, a cyan dress with a white collar and white detail, cyan socks, and black shoes.
Gallery
Voices
Morgan: Jeremy Scrivener (1992-2001) Troy Planet (2011-2013) Sophie Aldred (Milkshake)
Amy : Sandie Lillingston (1992) , Mary Ann Henshaw (1992-2001) ,Isabelle Dunwell (2011-2013) , Anjella Mackintosh (Milkshake)
Lulu: Taylor Owynns (1992-2001), Monica Trapaga (The Album), Sandie Lillingston (Bumping And A Jumping) Ines Vaz De Sousa (2011-2013), Jen Pringle (Milkshake)
Community content is available under
CC-BY-SA
unless otherwise noted.