Welcome to the Bananas in Pyjamas Wiki
Bananas in Pyjamas is a TV show starring B1 and B2
The main characters are two anthropomorphic bananas named B1 and B2. Other characters include the three teddy bears Amy, Lulu and Morgan, and Rat in a Hat.
The bananas, the teddies and Rat in a Hat all live in the same neighbourhood, a cul-de-sac called "Cuddles Avenue". The bananas live next to the beach and serve as beach patrol. The teddies live next to and look after the park. Rat in a Hat works and lives at the community store. The characters enjoy eating "munchy honeycakes" and "yellow jelly".
Loading RSS data...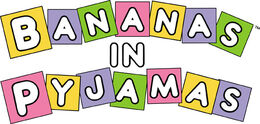 Want to affiliate? Let an admin know!
Community content is available under
CC-BY-SA
unless otherwise noted.