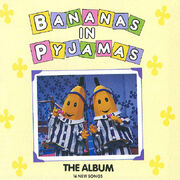 Bananas In Pyjamas: The Album is a Bananas in Pyjamas album released in 1993.
Songs
Bananas In Pyjamas (Instrumental)
Personnel
Trivia
Two songs, Walking in the Park and Hey There Everybody, were written by The Wiggles, Murray Cook, Jeff Fatt, Anthony Field, and Greg Page, which they wrote Tidy Up Song and Shaky Shaky.
British composer, Carey Blyton wrote Bananas in Pyjamas.
Australian composer, Chris Harriott wrote Roly Poly Rat and Amy's Magic Act.
Lulu's actor, Monica Trapaga wrote Twins, Shopping with Lulu, I Love the Ballet and The Amy Shake with Michael Gough and David Basden.
Rat's actor, Shane McNamara wrote Banana Holiday.
Bruce Whestley wrote At the Beach with W. Whestley.
Genni and John Kane wrote Hello Song and In Deux Trois.
Ian Harris wrote Roly Poly Rat and Amy's Magic Act.
Scott Browne wrote Happy Birthday for Two.
Colin Buchanan wrote Bananas' Fixing Song and Goodbye Song.
Franciscus Henri wrote We Like Wearing Pyjamas.
Gallery
Australia
UK
Album Booklet
Australia
UK
Community content is available under
CC-BY-SA
unless otherwise noted.