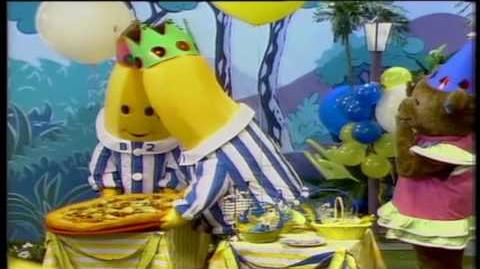 Bananas Birthday Friday
is the twenty-sixth episode of Series 1 of Bananas in Pyjamas aired on 24th August 1992.
Plot
The Teddies are setting up for the surprise party. Although they originally planned to have the party indoors, they decide that the weather is too nice to do so and set up in the park. They are all set to start their party but cannot start without the Bananas being present.
Meanwhile, the Bananas are setting up their own party in their house and waiting for the Teddies to arrive. Suddenly, their phone rings. Morgan tells the bananas that he needs to see them straight away at their house. The bananas arrive and the Teddies are able to surprise them. However, the bananas point out that they had planned their own party. Morgan has the bananas bring their things over to have an even bigger party. They combine all their food and games.
Trivia
Community content is available under
CC-BY-SA
unless otherwise noted.